Organizing competitions just got better!
Hosting or managing a competition has many key elements that must be fulfilled in order for it to be successful. One of them, which we can all agree on, is to ensure that all participants are accounted for. No one is missing, all their names, grouping and seeding are accurate. Challonge currently has a system thousands of tournament organizers enjoy that makes all of these tasks doable, even on the fly.
This is good, but it can be better. 😉
Just as the title says, we're here to introduce to you several features that will certainly improve the overall participant management experience in both Single and Two-Stage tournaments. We even added one particular feature that everyone will surely love. Hint: Full Customization!
Participant Management UI
Let's start with a preview of the new and improved layout of the Participant Management.
All the basic elements when adding new participants are present, just like in the current system. Our team has developed a modern UI with a blend of spacious design and enhanced font style for greater visibility.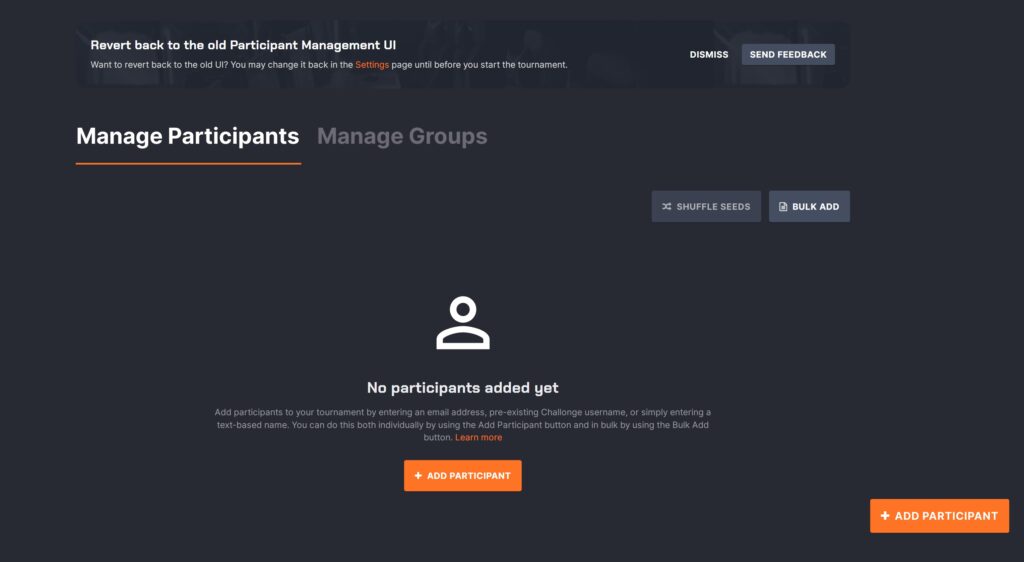 This new feature can be enabled in two ways. You'll see this first under the Experimental Features when creating a new tournament: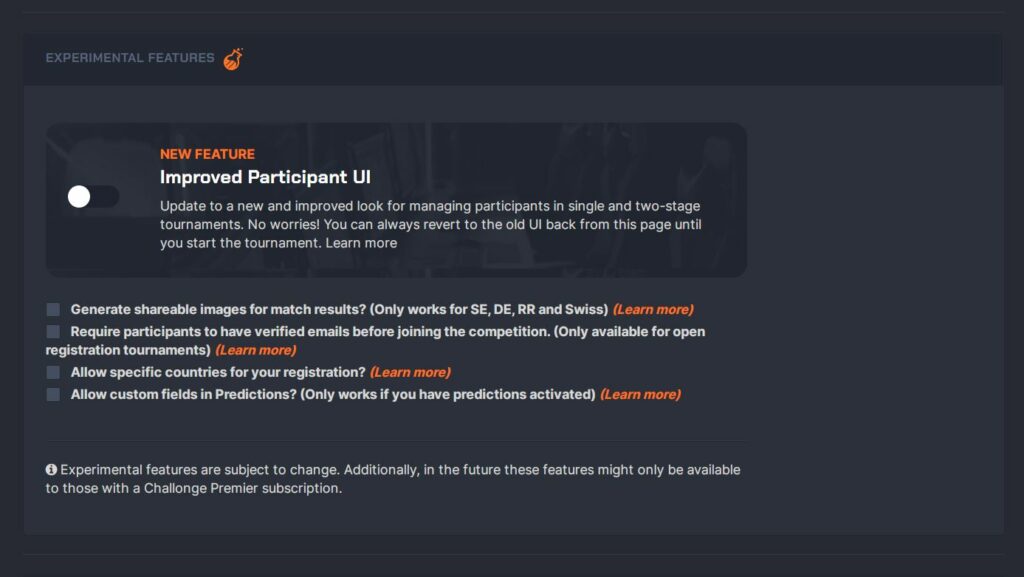 The second is from a bracket's Participants tab.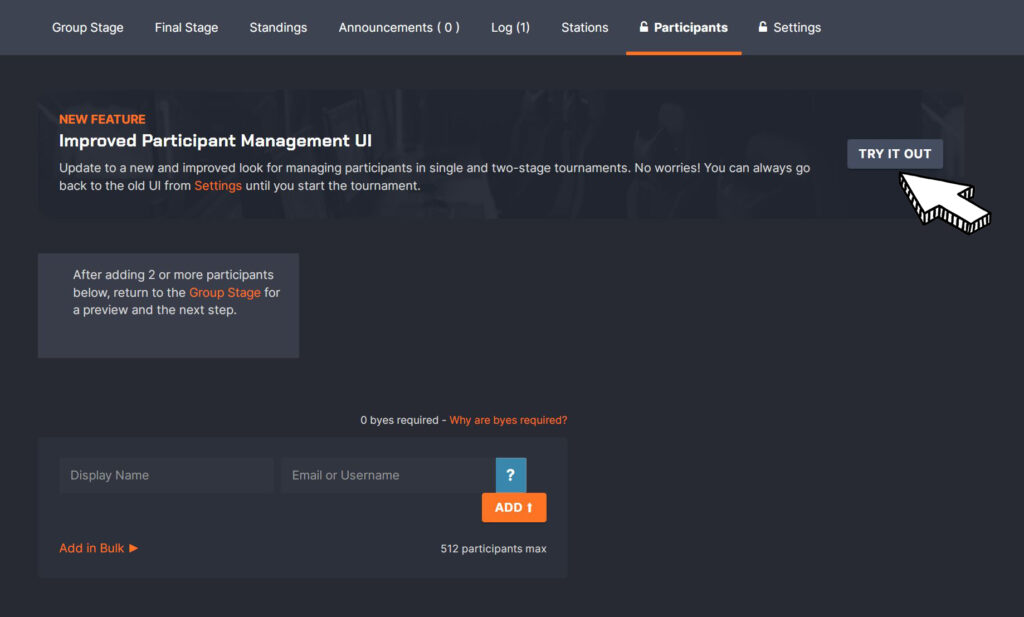 If you're still more comfortable using the Legacy Participant Management UI, you could always revert it back. This can be done from a bracket's Settings tab, before starting the tournament.
Compare, take notes, and enable it once you're free to explore again.
Adding Participants
Now that you've seen the new layout, it's time to add some participants and there are two ways to do it.
The first option is by adding or inviting participants individually. Click the + Add Participant button and you will be asked to provide the ff:

Display Name – A simple text-based name will be added as a participant or team. If you're the only one who will be managing the bracket throughout the competition, use this option.

Email or Username – Providing any of the two will send an invite via email and on-site notification to anyone who has a Challonge account.

This also ensures that your participants will receive email notifications about their upcoming matches, tournament results, and announcements. They will also be able to report their own scores in the bracket and upload match attachments.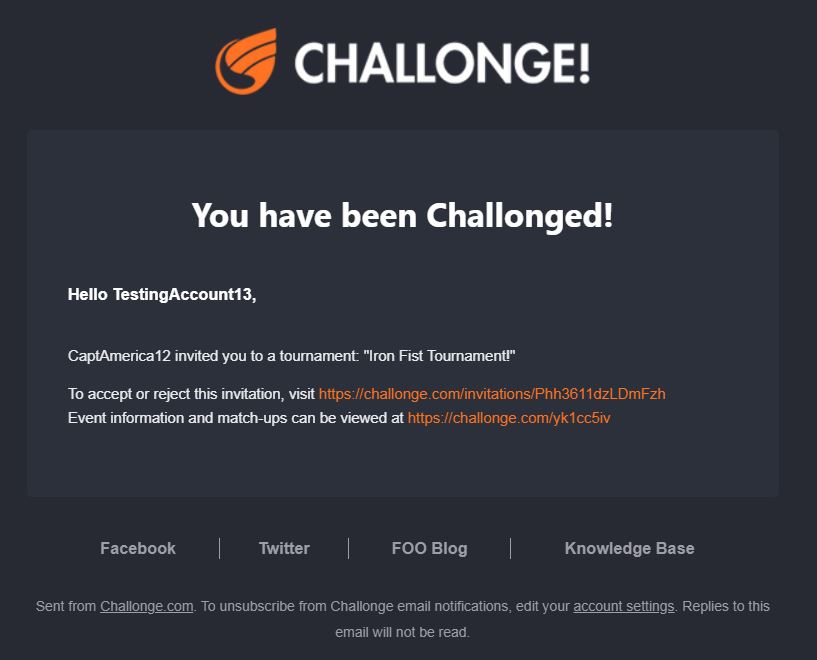 The second option is to add participants in one fell swoop using the Bulk Add feature. This is perfect for tournament organizers who already have a list prepared in their Excel files, ready to be copied and pasted.
Just add one name per line under the Participants box. Feel free to add other information such as nicknames, usernames, gaming IDs, etc.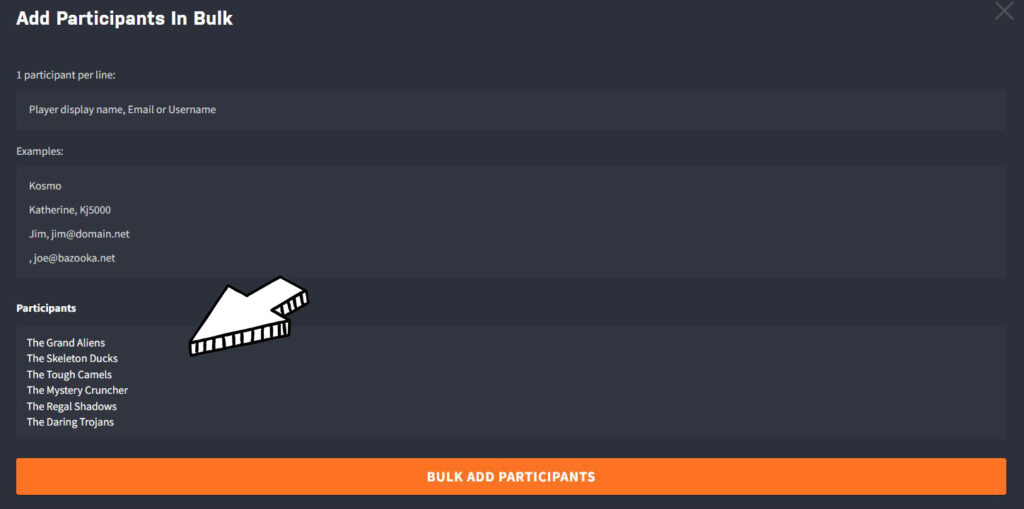 Take note that we have an 18-character limit per name. Going beyond the limit will not display excess characters in the bracket. Don't worry, anyone can still check their full names by clicking the Match Details magnifying glass button.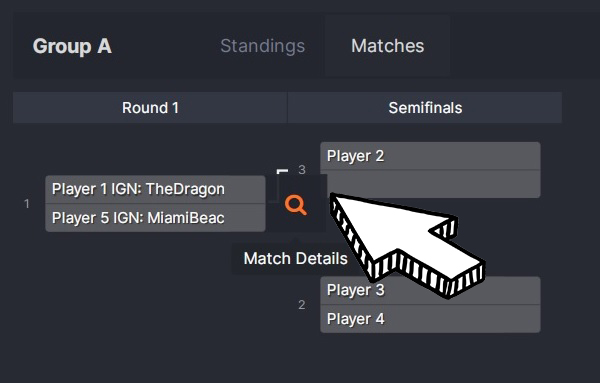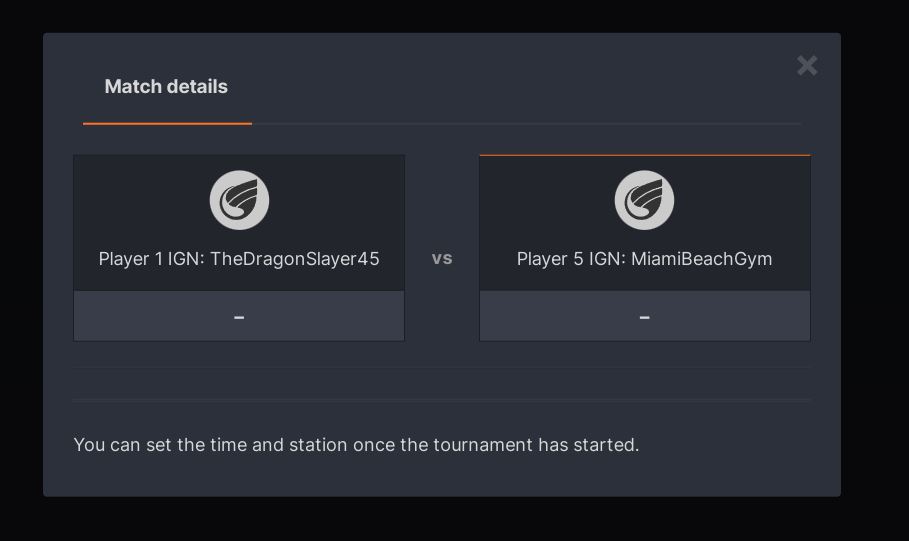 Manage Participants
Once all the participants are added/invited, you'll have the chance to reorganize everything before starting the tournament. This is especially useful for checking typographical errors, missing participants, or even substituting dropout players.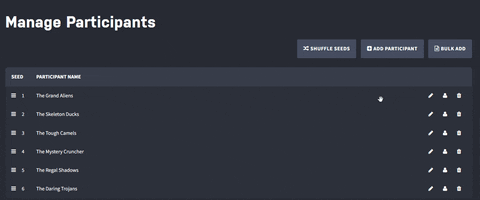 Edit the display name of your participants. Help tournament admins, spectators, and yourself identify each participant easily by adding gamer tags, user IDs, nicknames, and more.
Last minute changes or invites? No worries. It's easy to substitute a participant with any display name or invite another participant with a Challonge account. All they need to do is to accept the invitation before the competition starts.

No one to substitute with? Removing a participant will always be an option. For ongoing tournaments, use this option again and the deleted participant's upcoming matches will automatically be forfeited. His/her competitor will receive a bye and move on to the next round.

Rearranging Bracket Seeding
Who will compete against who? Are the pairings fair or based on skill levels? Do we even need to have a structured system for this? These questions will all be answered by manually assigning participants with their seed numbers to determine the matchups. Another method is by shuffling them to make the competition more exciting!
Let's start with the manual assignment of seed numbers. This is particularly helpful for creating a structured bracket, especially if a tournament organizer is trying to level the playing field. If you need a guide on each seed's assigned matchup, just browse through the bracket.
The first option is to provide a numeric seed value for each participant.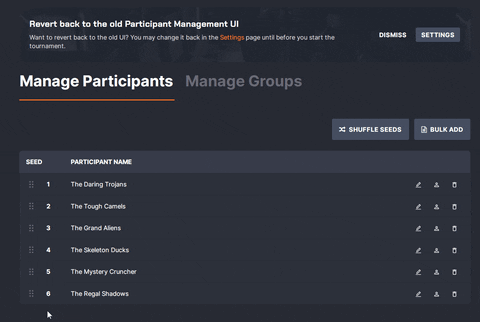 The second option is what we're already familiar with, the dragging and dropping method.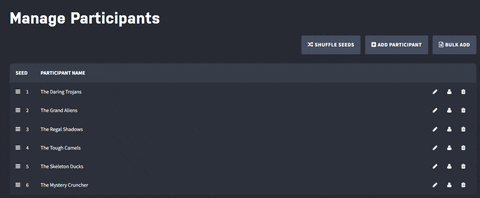 You could always use both options at the same time and experiment as you go along the way. It will all come down to personal preference in determining the easier or more comfortable approach. Take your time and be a seeding wizard after this competition.
Next up, shuffling seeds. Again, we're also familiar with this feature and it's so simple to use. All you need to do is click the Shuffle Seeds button as many times as you like.
Promote transparency and fair play. Tournament organizers use live streaming platforms and show the shuffling process to their fans. Want to prevent seeding arguments and controversies? Do the shuffle.
Fully Customize Two-Stage Groups
We saved the best for last. This is one of the most requested features of all time and we're thrilled to share the good news.
Tournament organizers are now able to create or modify their preferred group sizes and player assignments! No more issues about the unbalanced number of participants in a group. No more compromises.
Create the perfect bracket you've always been preparing for. 💪
Start with a Two-Stage tournament and enable the Improved Participant Management feature. Next, add Display Names or invite participants with Challonge accounts. After this process, you still won't be able to start the tournament. Instead, the bracket will ask you to create groups and assign participants.
This is where the fun begins.
Click the Manage Groups button or the Participants tab to build your groups.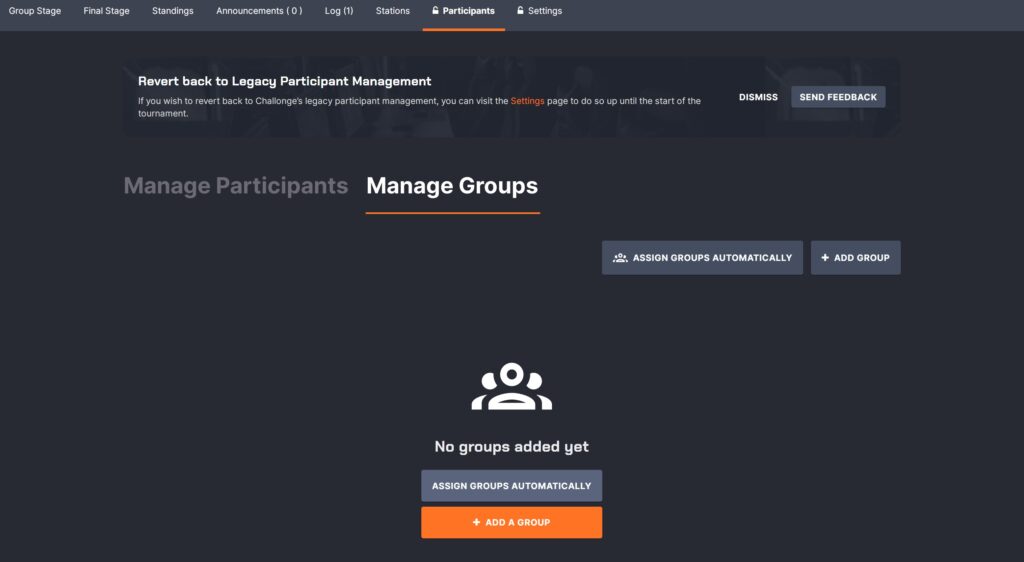 For a quick start, you may automatically create groups and the participants will be assigned based on the Serpentine system.
Another method is to manually add groups according to your participant size or preference.
Click the + Add Group button and assign participants to any group. It doesn't matter how many participants you assign; it can even be as uneven as you want. Your tournament, your rules.
In this example, we created 2 groups of 4 participants, and 1 group with only 2 participants because why not.
The created groups will be mirrored in the bracket.
Need some adjustments with the participant assignments? Swap them easily before starting the tournament! Go back to the Participants tab, and select which participant will be taking his/her talents to another group.
Click the Move to another group button for any participant, select from the dropdown menu on what group he/she will be moved to, then hit Save Changes.
As an alternative, drag and drop to another group is also an option.
Removing a Participant or Group
A tournament bracket should always be flexible enough for any necessary changes. Removing any participant can still be easily done by clicking the trash can button.
The same process applies to removing excess groups. Participants from a deleted group can still be reassigned to another.
Mobile Version
Hosting competitions with a dedicated on-site venue? You can always use any mobile device and it would run just as fine as managing brackets on a PC or laptop. Looks great too!
We've now covered everything the Improved Participant Management currently has to offer, but the journey doesn't end here. We consider everyone as part of the Challonge team and your feedback is important to us. Let us know what you think!
If you have any suggestions on how we can improve this feature, please leave any comments here: https://product.challonge.com/c/26-improved-participant-management
We hope you enjoy the new feature! Got any questions? We're just one DM away on Twitter and Facebook, or email us at [email protected]. Our Self-Service Knowledge Base is always available for immediate help.
Good luck and have fun with your tournaments! 🏆