There are a lot of reasons why schools, companies, and organizations are deeply engaged with Tournament Prediction Contests. It is a great way to bring people together and collectively root for a favorite team. It also creates a great environment and boosts morale while building up friendly rivalries. Bragging rights are at stake amongst your friends and colleagues!
While basketball tournaments are widely used for prediction contests, they can also be used for other activities and events. It can be anything from racing, music, popular affairs, Esports tournaments, and even your local video game sessions. Challonge has made Prediction Contests easy to create and manage so that you can just simply focus on helping your participants and watching the games together. This blog will guide you every step of the way.
Ready? Let's start!
After filling in the basic information about your tournament and selecting the format (Single Elimination or Double Elimination), head to the Prediction and Voting section, select the Enable bracket predictions, then choose how points will be given for each round. Hit the Save Changes button, check your bracket, then add participants.

Click the Start Accepting Predictions button and allow your participants to create and submit their predictions.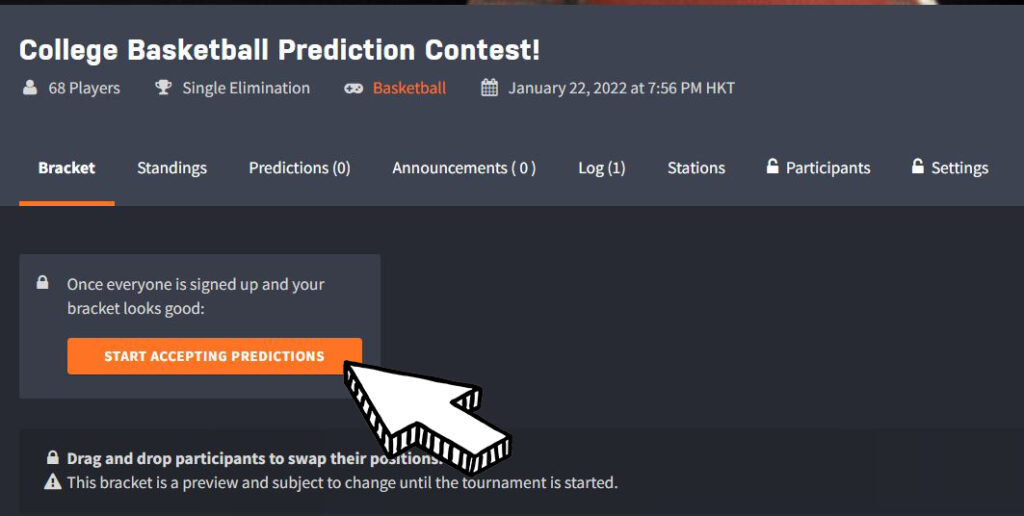 The Create A Prediction button will subsequently appear for you and your attendees.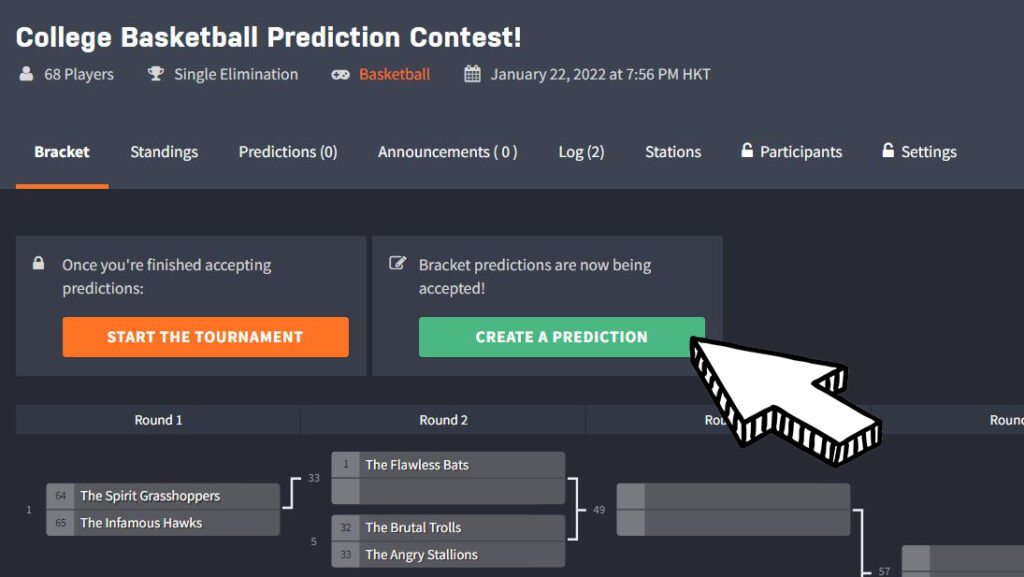 Try predicting the outcome of the tournament's bracket. Click or drag each team that you think will move on to the next rounds and ultimately, the tournament winner.
In the Prediction Info section, select a name from the drop-down menu (Finals participants) on who you think will win it all. Add a Prediction title and include your email address.
Participants who are logged in to their Challonge account before submitting a prediction will have the Edit Your Prediction button available in the bracket. This way, the prediction can be updated easily when checking the bracket.
They can also submit predictions without creating or logging into their Challonge account. Instead, a Prediction link will be given in case they need to edit or delete the prediction.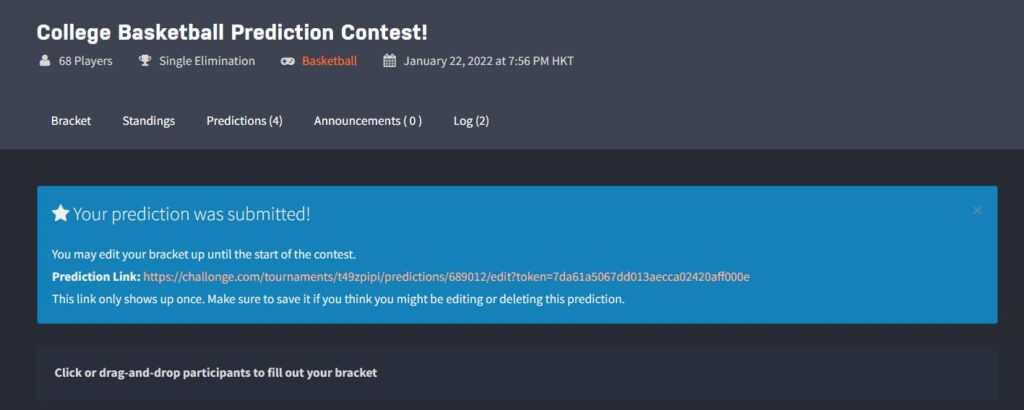 Please take note that all predictions must be submitted prior to the start of the tournament. Predictions will no longer be allowed to be modified/deleted after the tournament begins.
Once all predictions are in, you may now start the tournament and report scores for each match.

As match scores are reported, predictions will automatically be scored and ranked accordingly.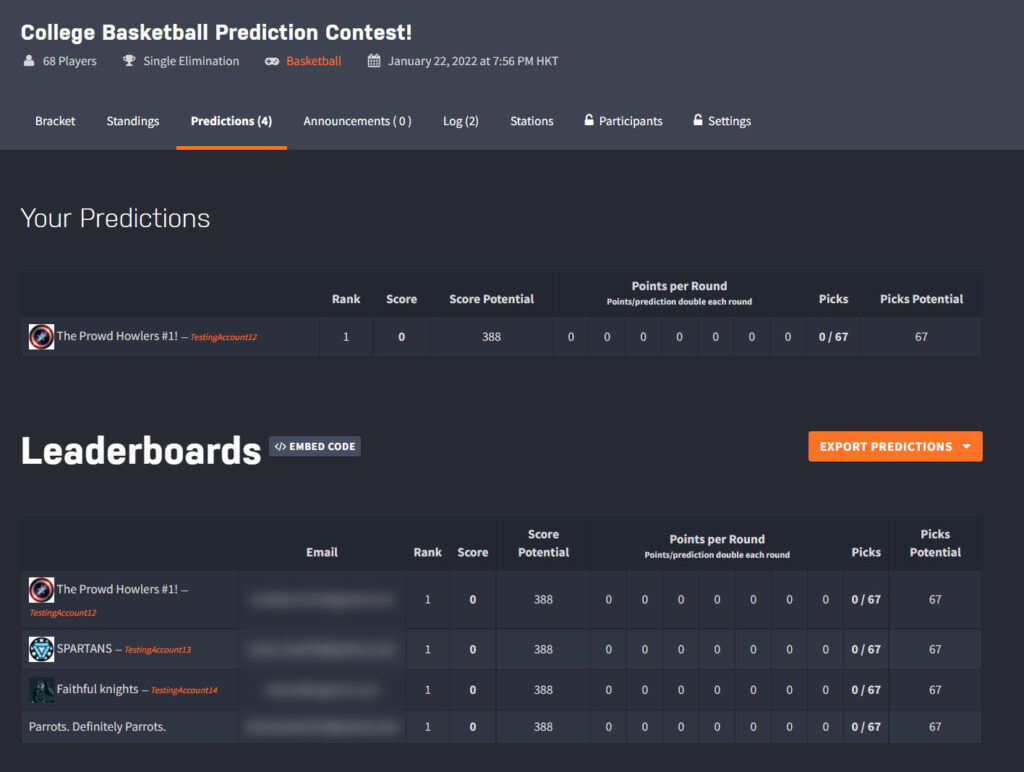 As a Premier user, you may download the prediction results as a CSV file or have them sent to your email.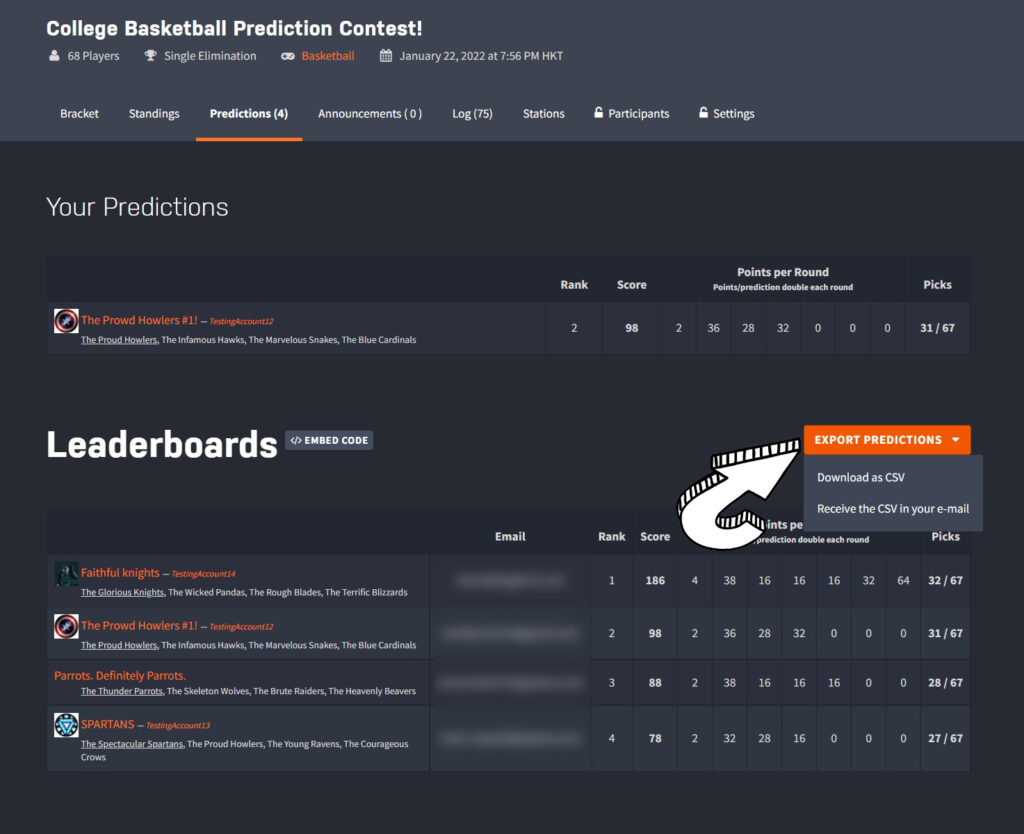 Please take note that predictor email addresses, insights, and the ability to embed prediction leaderboards to any website are exclusively available to Premier users as well.
Congratulations, you just completed a prediction contest here at Challonge! Remember, this free-to-use feature can be used for all types of events and competitions. It can also host an unlimited number of predictors, perfect for large-scale groups.
Let us know what you think about our prediction contest. If you have anything to suggest that can improve this feature or just want to say hi (come on, don't be shy), feel free to email us at [email protected]. You could also message us on Facebook and Twitter.
Be informed and manage your competitions and communities like a pro! Check out our Knowledge Base to stay ahead of the game.