A Challonge Community is for everyone. It can be a home for game enthusiasts, casual and hardcore players, organizations, corporate companies, e-sports fans, athletes, tabletop fanatics, or even your folks at home playing chess and board games!
It is a centralized hub for tournaments, announcements, events, and communication within your own group. Challonge Communities makes it easy for tournament organizers to promote anything your fans will enjoy. Gain more followers and attract potential customers along the way.
Automated stats and rank tracking are also available with the help of Leaderboards and Challonge Ratings, perfect for all types of competition. Rid yourself of the old pen and paper number crunching and just focus on managing tournaments!
Get comfortable, or even grab a snack as we walk you through the creation of your own community.
There are two ways to access the community page:
From the Communities tab.
2. Or by checking your account's drop-down menu, then Communities.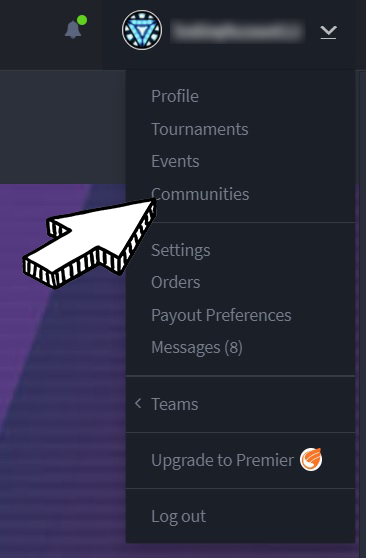 Click the Start A Community button located at the top left corner of the page.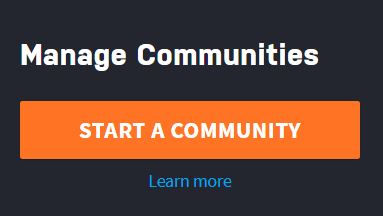 Community Name
What will your community be called? Don't worry, this can be changed anytime from the Settings page once the community is created.
Link to your community
Come up with your own URL and get easily recognized.
Skill level
Define the type of members who would be interested in becoming part of your community.
Games you will play
List down the names of games, sports, or activities your community will be playing. Is your game not on the list? Contact us at [email protected] and we'll help you out.
Community location
Specify where your community is located to attract potential community members near you. Competing globally or primarily online? Choose the online community.
Social media links
Add all your social media accounts here so that everyone can know where to contact you outside of Challonge. Communication is vital in organizing successful events and tournaments. Reach out to your people!
New community page
A new home for your fans, members, and friends is now established. Welcome to your community's page!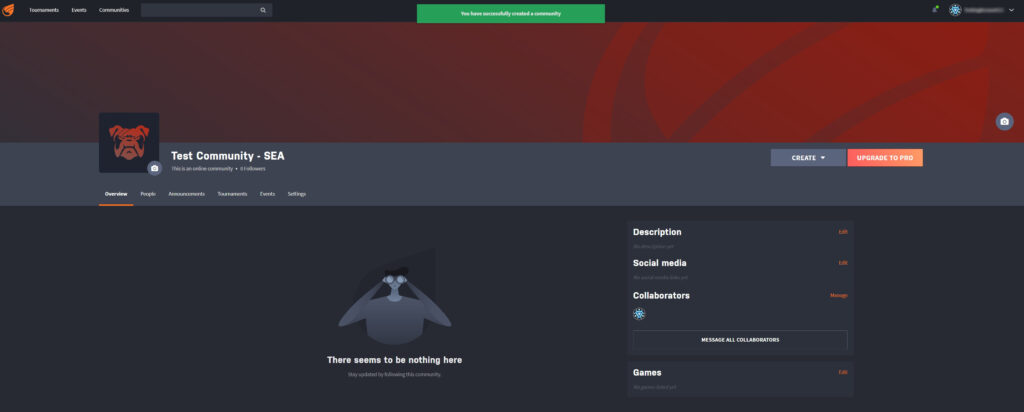 Add more information about your community
Forgot to include more information about your group? Will you be promoting more social media pages? These can all be modified and added through the community's Settings tab.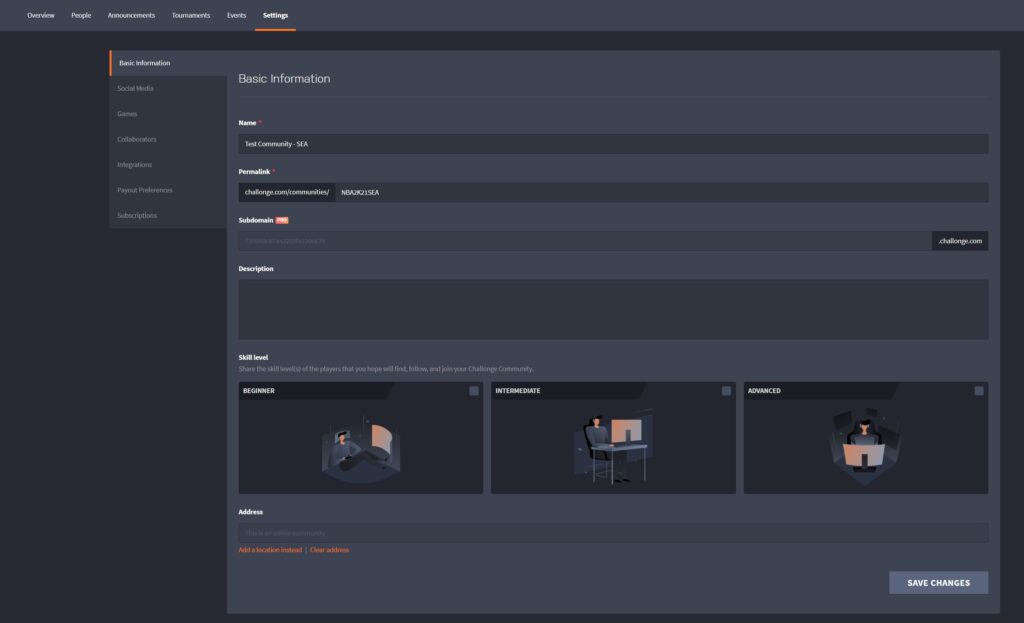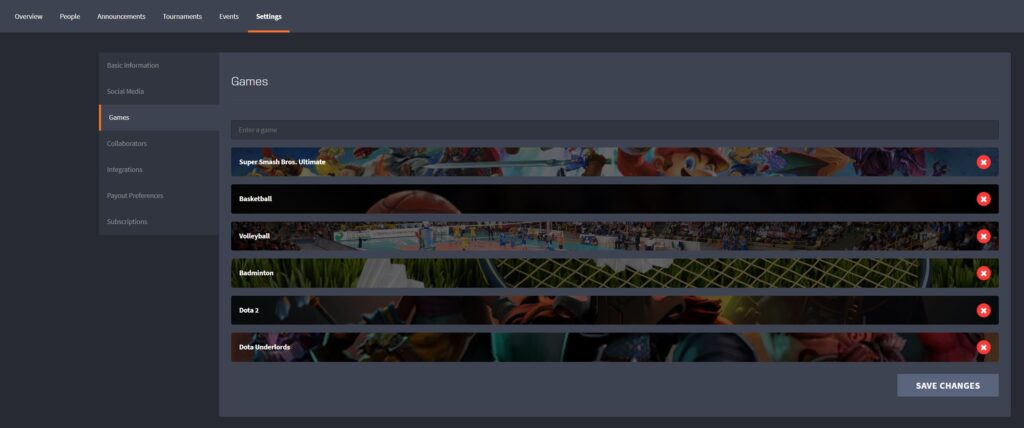 Collaborators
No man is an island. Gather all your friends and invite them as collaborators to manage the community with you. Granting admin privileges to collaborators allows them to create tournaments, events, and announcements on your behalf. They can also help manage the membership of other collaborators, modify your community's basic information, and even integrations! It is similar to when you provide admin access for your own tournaments.
Having a trustworthy team with the shared goal of properly managing the community saves time and effort.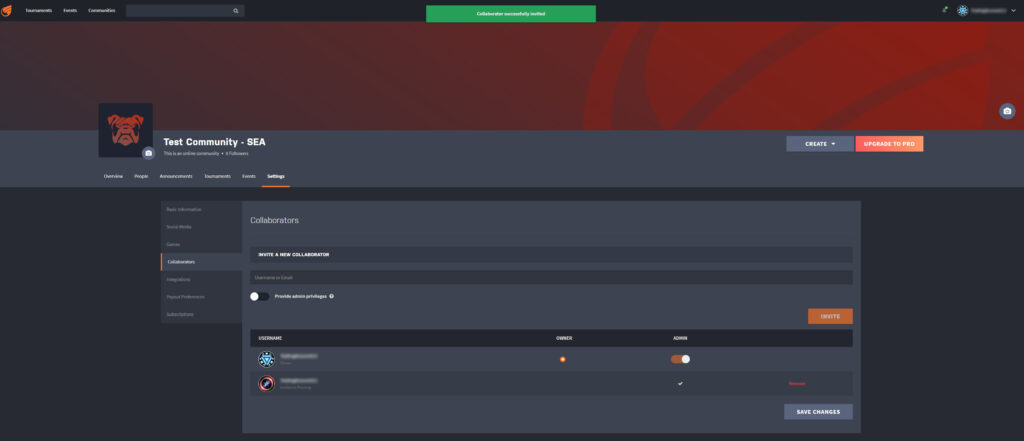 Integrations
Challonge currently offers two integrations for any created community.
We've partnered with Tournament Kings to provide a powerful tool that helps organizers create and manage tournaments inside their Discord server, free for all users! Check out this article for more information.
We also have Discord Bot integration for Premier subscribers. It enables organizers to manage all notifications in Discord about what the bot will send to all your participants. This is perfect for letting all your participants know if you have a new announcement posted, event developments, and match reminders.

Payout Preferences
Have participants pay registration fees for paid tournaments by setting up the community's Payout Preferences. Connect your Stripe account and start collecting funds from your participants.

Subscriptions
Upgrading to Challonge Premier comes with a lot of exclusive features, and earning a free Pro Community License is one of them. Please take note that each Challonge Premier account only comes with ONE free license. Succeeding charges will be applied for multiple Pro Communities.
Having a Pro Community removes all the ads from your page, access to a personalized subdomain, zero service fees for paid tournaments, more exposure to Challonge, maximum number of participants bumped up to 512, and many more.

Community banner and avatar
Now, it's time to let those creative juices flow – decide how your community banner and avatar will look like. Find the perfect balance and vibe your members and fans can appreciate once they visit the community page.
The maximum file size for a banner is 5MB, 1920px x 820px. Follow our templates here and create the perfect banner.

Creating for your community
Keep your members and fans engaged by hosting tournaments and events. Got a piece of important news to share? Go ahead and create an announcement. All your members will be notified on-site and through email.
To start, click the Create button located at the community page.

Leaderboards
One of the key benefits of having your own community is gaining access to the leaderboards. As you host tournaments within the community, participants will have their own Challonge Rating, categorized per game. As long as all the Challonge Rating System requirements are met, the leaderboards will automatically be populated with tournament and match results.
It's perfect for progressing and seasonal leagues that require performance monitoring of all players!

Grow your community
You are now ready to explore more opportunities as you create tournaments and events along the way. Gain more followers, nurture your members, and be prepared for bigger and better competitions. Make sure to promote your community on social, okay? We'll follow you!
Let us know if you're able to create your own Challonge Community, share with us your experience and feedback if there's any. We look forward to meeting you and your communities online and off!
Follow us on Facebook and Twitter to receive the latest news and updates.