Challonge takes away the hassle of hosting tournaments and building communities. Regardless of the player size, game, activity, or level of competition, anyone can generate their own tournament. In this guide, we'll cover the very basics of creating your first tournament.
Let's jump right in!
Once you're logged in on Challonge, click Create A Tournament and select Tournament. For competitions that involve racing Time Trial, and other timed events, choose Race but we'll stick with Tournament for now.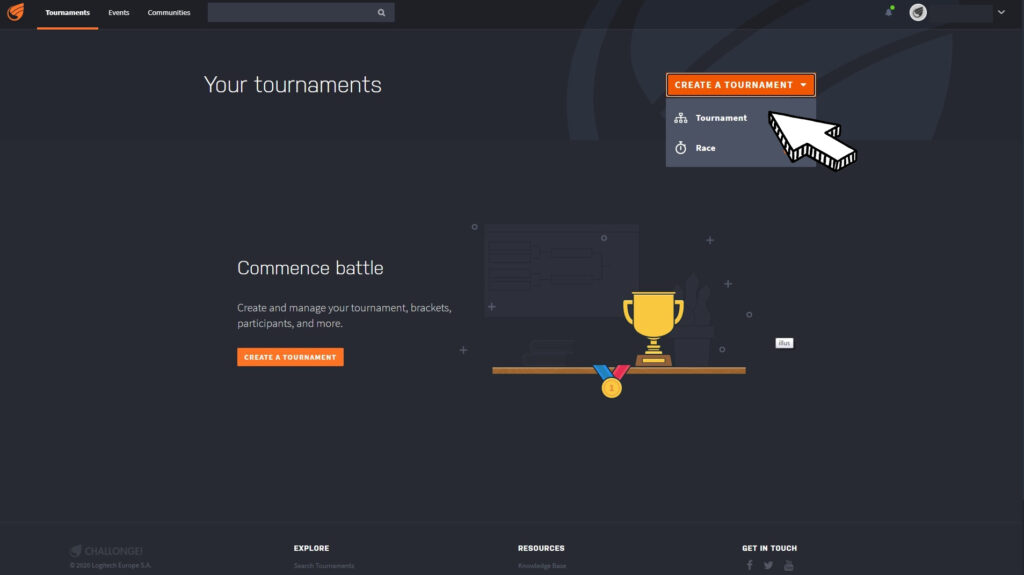 Basic Info
Host
Your Challonge username will be used by default as the host for this tournament. Created Communities can also be selected as hosts anytime.
Tournament Name
Here's the fun part — think of a tournament name that best describes your competition. This can also be used as a guide for tracking tournaments in the long run. (e.g. Season 1, Week 1, 2, 3…)
URL
Complete and personalize the tournament URL and check if it is available.
Description
Take advantage of this part to explain any rules or regulations that need to be followed all throughout the competition. It is important to let your participants review these before entering a competition especially if you require registration from another website.
Protip: Using other platforms or third-party applications for communication? Paste the URL here for fast and easy access!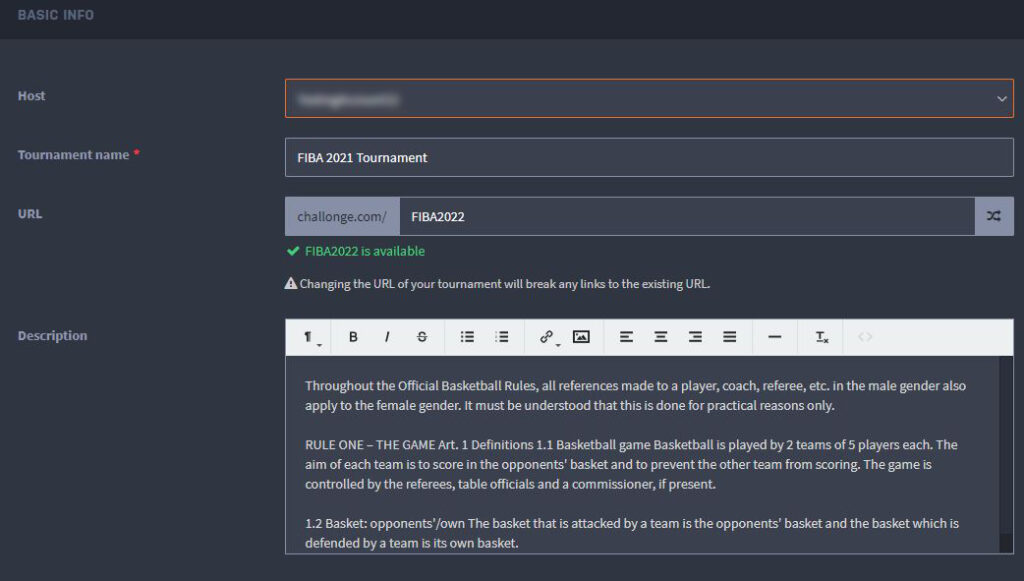 Game Info
Game
Type the title of a game, activity, or sport you're playing and select from the results. Didn't find what you're looking for? Feel free to use the game you entered or email us at [email protected] and we'll gladly add it to our database.
Type
There are currently two options to choose from and this could be determined by your tournament's format.
Single Stage Tournament (Group Stage) is commonly used for single-phase competitions and only follows one format. This type of competition is simple to run and followed by spectators.

Two Stage Tournament (Group Stage + Final Stage) Host a Two Stage tournament where the performance of participants' in the Group Stage (aka "pool play") will determine which participants start the Final Stage.
Format
Choose from the available formats:
Single Elimination is one of the simplest and most popular tournament formats. It's basically a knockout tournament wherein winners from each match advance to the next round and losers are automatically eliminated.

Double Elimination gives players another chance to compete in the Finals, unlike Single Elimination. If a player loses in the Winners' bracket (top), they'll fall down to the Losers' bracket (bottom) and compete once again. But if you lose, you're now officially eliminated from the tournament.

Round Robin allows participants to compete against one another not more than once by default. If each participant plays all others twice or thrice, this is called Round Robin 2x or 3x. In order to achieve this format, check the tournament's Settings under Game Info.

Swiss give equal playtime to participants, pair players with others of similar skill level, and determine a winner in far fewer rounds than you'd anticipate. The first half of the Participants' list is paired with the second half for Round 1. In Round 2, players are paired up against competitors with a similar record until all rounds have been played. Players are ranked by the score at the conclusion of the tournament, with ties broken using the Median-Buchholz system.

Free For All is the perfect format for running Battle Royale and Racing tournaments. Selected winners from each match will proceed to the next round until only one remains.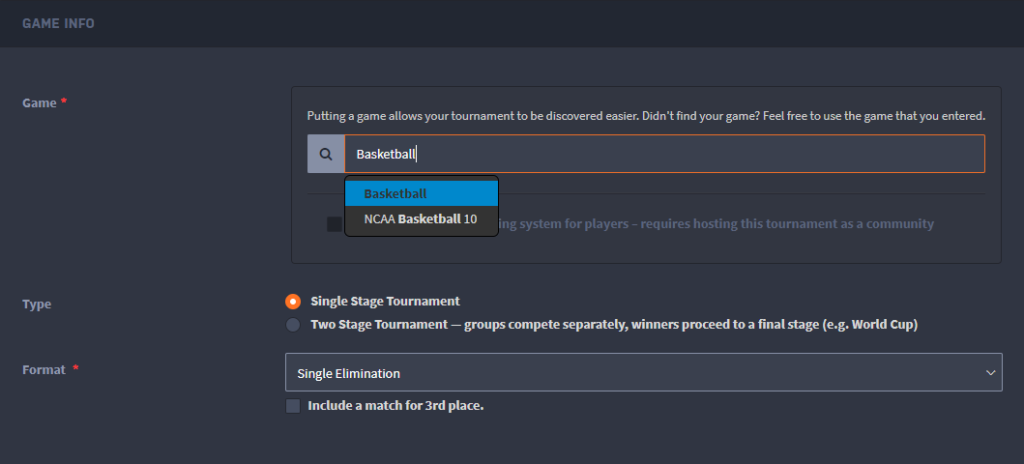 Registration
Registration
Provide a list of participants allows a tournament organizer to add participants in three ways:
Text Only – Enter text-based names of participants, which is convenient for quick tournaments. However, it will not allow for automated match notifications nor track player statistics across multiple tournaments.
Email Invites – Organizers can enter the email addresses of the players they wish to participate in their tournament. Challonge will then notify them via email of this invitation and then those individuals can log in or create a new Challonge account to verify their participation.
Challonge Username Invites – Organizers can enter the known Challonge usernames of the individuals they wish to participate in their tournament. Challonge will then notify them individually (via email) and those indvidiuals can verify their participation.
Note: Encouraging participants to update their display names in the bracket is also possible.
Host a sign-up page is another option wherein participants are given the chance to register by themselves if they're provided with a sign-up link. Tournament organizers can also make their sign-up page publicly visible and anyone can register for the tournament.
Adding Custom Registration Field(s) helps tournament organizers collect data from their participants by asking custom questions before finishing their registration. It can also be used to present registering participants with any type of necessary waiver, agreement, media release, and/or acknowledgment of rules and reasons for disqualification.
You may also block specific users from joining your tournaments by adding them to your account's settings then Blocked Users.
Registration Fee
Select Free if you do not wish to collect any tournament fees.
Paid tournaments require a Stripe account in order to accept fees for registration, the venue, prize pool, or other types of revenue upon tournament registration.
Participants
Require participants to register as a team is an option that requires participants to create their own Challonge team or join one in order to participate.
Specify a maximum number of participants helps limit the registration for any tournament. Once the cap is reached, additional participants will be added to a waiting list. This feature comes in handy if a participant suddenly backs out from the tournament and he can be replaced easily by the next waiting participant.
Start Time
Set the date and start time for your tournament from the provided calendar. You may also opt to just check the Mark as tentative option if the official date is not yet decided.
Note: The date listed on the bracket would be different depending on the viewer's set account time zone.
Check-in can also be implemented as a requirement for participants before participating in the tournament. As a tournament organizer, you'll be able to manage check-ins from the bracket. It also helps you to know who really is participating and you'll be able to plan ahead of time for any substitutions.
Note: Start time must be in the future when check-in is enabled.
If you're running an Event, managing check-ins can be easily done from the Dashboard.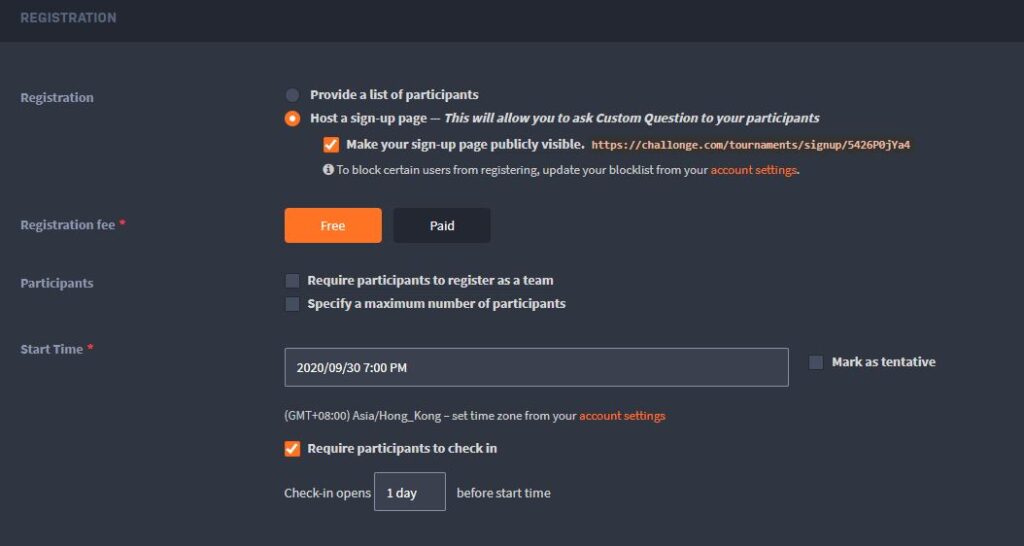 Predictions and Voting
Enable voting for open matches allows users with Challonge accounts to vote for their favorite participants.

Note: Voting is not available for Round Robin and Free For All formats.
Enable bracket predictions to run college basketball-style prediction contests for both Single Elimination and Double Elimination tournaments.
Each successful prediction gives points that increase either exponentially or linearly.

Experimental Features
Allows you to share match results easily on Facebook and Twitter using Social Image Sharing.
The Social Image Sharing is available only for Single Elimination, Double Elimination, Round Robin and Swiss tournament format.

Advanced Options
Bracket
Show customizable round labels gives tournament organizers an option to enable, edits, or hide the Round Labels in a tournament.
Hide seed numbers allows organizers to only show the participants' names in the bracket and not the seed they were slotted into.
Quick advance – report winners only, not scores option can be enabled if the tournament organizer doesn't need to track specific scores when advancing players. This would report a win/loss only.
Allow match attachments can be enabled to allow participants to upload images within the Attachments section to help further support the score they entered.
The order of participants can be changed using:
Traditional Seeding Rules – Top seeds are paired with lower seeds in the first round, preventing better players from meeting until later rounds (e.g. 1v8, 4v5, 2v7, 3v6).

The Order of the Participants List – Pairings are made by going straight down the list of participants. If your bracket size requires byes, byes are filled in first, followed by the 1st/qualifying round (e.g. 1v2, 3v4, 5v6, 7v8).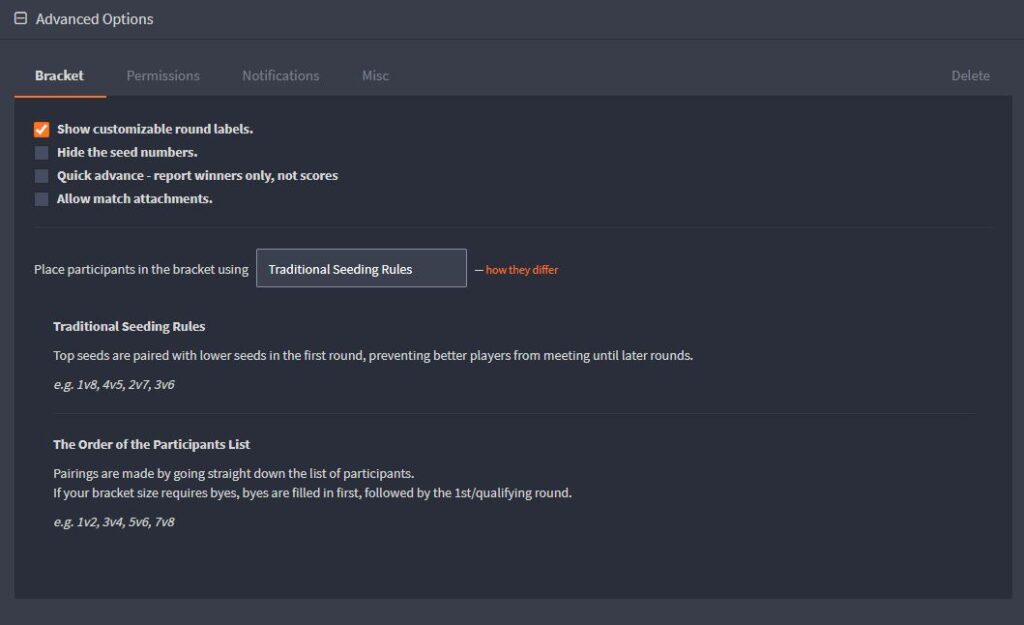 Permissions
Allow participants with Challonge accounts to report their own scores fits well with the option Allow match attachments to validate the scores they entered.
Share admin access to this tournament (select to specify usernames) can be enabled if you have other people helping organize the tournament. Tournament admins share the same privileges from an organizer with the exception of deleting a tournament.
Exclude this event from search engines and the public browsable index is an option to make your created tournaments private and unsearchable.

Notifications
Notify users when their matches become available is an option that allows players within a tournament to receive email notifications when their match is up next.
Note: Only users with registered Challonge accounts will receive email notifications.
Each email provides the following information:
Opponent name
Tournament name
Bracket link
Private message link with the tournament organizer
Send out the final results when this event ends provides a list of winners and the bracket's link sent via email.
Misc
Show discussions tab is set to enabled by default but can also be disabled anytime to block communication within a tournament. This is a forum-like discussion thread that can be used for communication among all tournament participants and organizers.

After adding 2 or more participants from the Participants tab, a preview of the bracket will be available and ready to start. Please note this is just a preview and is subject to change by the organizer including the auto-shuffling of seeds and therefore matches as well as the removal of any participants that did not check in all before the tournament starts.
Interested in learning more? Explore our Knowledge Base for helpful articles about tournament setup, progression, community, and many more. You may also email us at [email protected] for further assistance.