Challonge will not require payment from any legacy Challonge Organization Administrators in order to maintain associated subdomain(s).

Anyone that secured a Challonge subdomain prior to February 15, 2019 will be given full access to their subdomain at no additional cost indefinitely.
---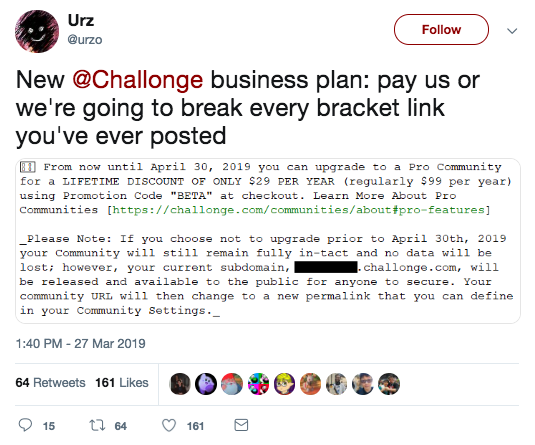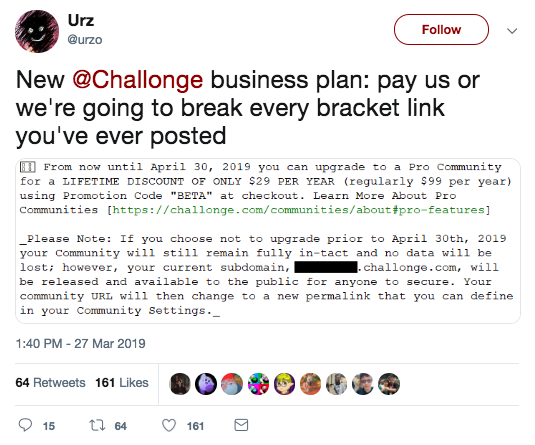 Thank you @urzo and everyone for the feedback about the recent email we sent to existing Challonge Organization Administrators detailing the launch of Pro Communities.
Please Note: This entire post is only applicable to those hosting tournaments from a subdomain such as evo.challonge.com. This does not impact any individually hosted tournaments from a user account such as https://challonge.com/users/corpuschristismash.
In summary, we goofed up. Here are some ways others put it…


---


---

---


---
Although Challonge has been in existence for 10 years it is very much a start-up and start-ups make mistakes. We are sorry for this one, extremely grateful for the feedback, and we hope this change makes it right.
We are on a mission to keep people playing and competing together no matter the sport, game, or activity. We're thrilled to continue to provide a convenient place to create and store tournaments. We're further motivated to enable communities to simplify operations, communication, discovery, and more.
We do hope you'll consider learning more supporting us through our new Pro Community offering. If you have any additional questions please email us at [email protected].